by Anthony Ciano aka MOOSE
I recently read that the NFL doesn't have an off-season. While this may be true, the
time between the Super Bowl until the combine, then up until the NFL Draft, followed by the
wait for camp, are much like mini off-seasons for yours truly. Unlike years past, the players
wait for camp this year with bated breath because they do not have a labor agreement in place for the upcoming football season. This affects everyone in the NFL industry; players, coaches, support staff and networks even. It is for selfish reasons I mention the labor issue, as players can't be traded for draft picks without a new CBA. I am a Chargers fan (living in New York) and we sit on Vincent Jackson, whose rights we own and franchise tagged this year, but who last season proved that rights do not mean the player will play. There are other teams in this boat; the Redskins with McNabb and Haynesworth; Young with the Titans; and even perhaps Kolb with the Eagles, could all get moved on or by the 28th of April if there is a new CBA on the table. This will all greatly affect the NFL Draft and a lot of "War Rooms," the teams drafting chambers, where they plot and plan to orchestrate drafts and trades trying to better their team for the upcoming season.
What follows are each team picks and needs, with a pre-combine mock draft. Until I get hired by an NFL team I can only utilize what I hear on the radio, watch on television, or read from the internet newspapers. I try and analyze like a chess GM and figure out who is going to be where, so I can plan, trade, and come out on top.
AFC EAST
The Buffalo Bills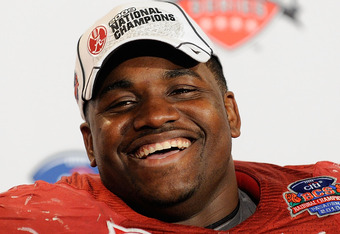 PICKS -- 1.3, 2.2, 3.4, 4.3, 4.25 (from SEA), 5.2, 6.4, 7.3 This team can
go 2 ways, draft a QB or take the "bpa" (best player available) every round because they have so many other holes. They could trade for a good veteran QB. Key free agent Safety Donte Witner, if they do not sign him, becomes an additional need. I would go with a QB as my greatest need and the biggest risk in this draft. I would try and trade down to about the 12 pick but that it is hard to do, because the higher picks carry a lot of value, along with a lot of salary. I do not believe any QB is worth the 3 pick right now and with that said, as my first pick in the first round at number 3, I take Marcel Dareus DL from Alabama, roll tide.
The Miami Dolphins
PICKS--1.15, 3.15, 4.14, 5.15, 6.14, 7.14, 7.15 (from JAX)
This team has no idea who the QB is, and their RB position is banged up and become old these last few years. I believe Mark Ingram, also from Alabama, makes the most sense here. They can draft a QB in the next round, perhaps a trade back into the late 1st when a Jake Locker might be available in the 20s. Perhaps between he and Chad Henne, the Dolphins may have a QB for the foreseeable future. They do need a Center, but there should be one later in the draft as well.
The New England Patriots
PICKS--1.17 (from OAK), 1.28, 2.1 (from CAR), 2.28, 3.10 (from MIN), 3.28, 4.28, 5.28, 6.24 (from NO)
This team just reloads, and doesn't miss a beat; look for them to be a contender for a long time, or until Lombardi, I mean Belichick retires. O line, OLB and RB are best 3 upgrades for this team and Von Miller, Texas A&M, would be perfect fit for them in the 1st Round.
The New York Jets
PICKS--1.30, 3.30, 4.29, 5.30, 6.29, 7.5 (from ARI)
How can you not love this team? I mean they spend by trading up and signing free agents, trying to do whatever it takes to build a winner. But they've fallen short twice these last 2 years in their quest for a Super Bowl victory. Depending upon where the chips fall this year this team could take a big step backwards. They have a lot of high ticket free agents with only 2 picks in the top 100. Sanchez isn't the most accurate QB in the league, although he does appear to be clutch and they have 2 big name WR both wanting to get paid. With the 30 I would go RT as this will be great value, or possibly NT. Knowing the Jets though, they could buy most of their needs and draft depth. Titus Young Boise state would be a fine WR and good value at 30, but expect the coach to go DE.
I'll be back soon with more draft coverage. Follow me on twitter
@chargerjroc
and let me know your thoughts.